Discover more from Fingers
A newsletter about the business, culture, and chaos of drinking in America.
Over 4,000 subscribers
2-for-1 Shock Tops to own the libs
Free smells of watermelon White Claw, the state of the boozeletter + more
Welcome to Fingers, a newsletter by me, Dave Infante, about drinking culture, being online, and beyond. More about this project 

right here

. If you were forwarded this email and want to subscribe to future Fingers dispatches, smash this here button:
Follow 
@its.fingers
 on Instagram! I'm posting readers' photos of glorious barroom graffiti with the hashtag #TheBarfitiProject. DM me your photos there, or email me: 
dave@dinfontay.com
.

Yes hello, it's your pal and fearless Fingers editor, Dave. We've got a lot of ground to cover today so shut the hell up and listen for once in your life, alright?! Just kidding. Why are you leaving?! IT WAS A JOKE, GOD!!!
For anyone still reading, thanks for sticking with me—both through the hacky lede above, and just in general. If you think your friends/family/followers/nemeses would enjoy Fingers, I would be SO GRATEFUL if you'd forward them this email, or share it on social media:
In all seriousness, thank you so much for supporting Fingers. This project can only exist with your support, and I cannot grow this community without you.

As you might have heard, I got laid off a few weeks ago (it's fine, I'm fine) and the response to that news has been overwhelmingly positive. People who aren't even my mom texted and emailed and DMed me to say they admired my work, which is the insecure writer's equivalent of injecting soma directly into the brainstem and thus made me feel very good about myself. You should all be so lucky someday, and I hope that you are.
Another thing making me feel downright euphoric: Fingers is growing! Our little booze newsletter (boozeletter? Is that a thing yet or can I claim it? DIBS!!!) community is growing at a wonderful clip. Here are graphs of trailing-30 and trailing-90 subscriptions: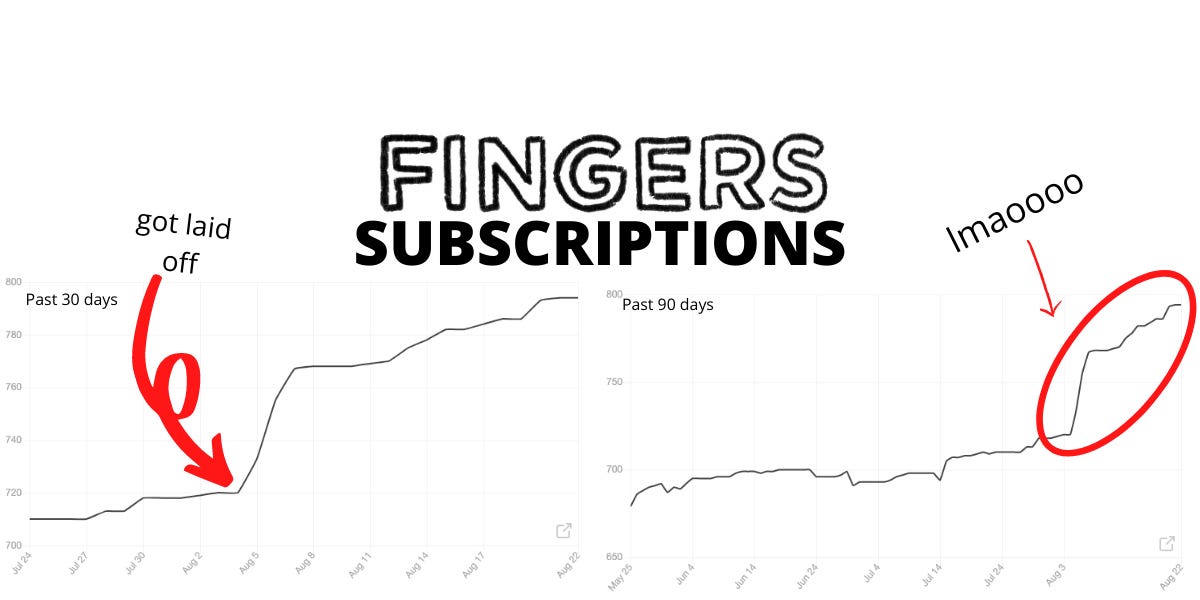 Look at that uptick! Maybe I should get downsized more often! That's a joke, but this is not: seeing people get on board to support the newsletter has been such a creative/emotional buoy to counter the impossible weight of, you know, *everything else* these days.
For all the new folks who have joined up since early August: welcome, you've made a great decision. I can't say I won't let you down at some point, because I surely will! But I can say I'll do my best to deliver on my very-reasonable mission of being the best newsletter ever written about the horrors of existence, the wonders of the internet, and those vital ethanols in which we float our dreams and drown our sorrows. (I'm just talking about getting drunk here, but all purple-like. Gotta use that English degree for something!)
And of course, those Friends of Fingers who have been here since the very first edition have my undying gratitude. Undying, I say! So whether you're a first-timer or a long-timer, thanks for being a part of Fingers. If the feeling is mutual, kindly tell your timeline to sign up for this here boozeletter:
I would Really! Appreciate! It! OK, that's enough shameless self-promotional debasement for the moment. Onward!
---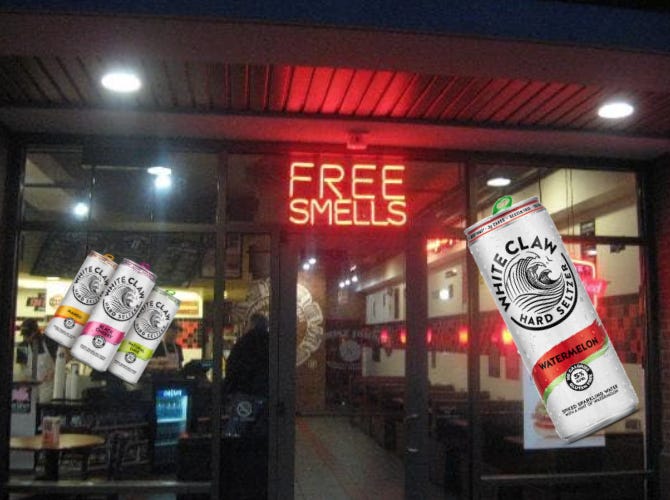 I always thought these signs were a little weird but then again I'm not a marketing Brain Genius so what do I know.

Source
Good Ship White Claw sets sail; Fingers editor misses boat
Accountability journalism—the practice of investigating powerful people and organizations to make sure they're behaving ethically and as they claim to be—is vital to a healthy democracy. So too is accountability in journalism: the practice of reexamining one's reporting in light of newly emerging or conflicting facts, and addressing those conflicts transparently.
And so it is with a deep sense of professional conviction that I must inform you that your Fingers editor made an apparent error in last week's dispatch, "Hire me, White Claw." The piece, which was widely read and seemingly enjoyed, turned on the assumption that the hard seltzer brand's parent company was still searching for someone to take up the lead marketing role that had been vacated in mid-July.
But it turns out that the secret Canadian firm had actually filled that role at least a few days prior to my Claw cover letter hitting inboxes on August 20th, and maybe even earlier. How embarrassing. (For them, I mean: this means they didn't even consider my exemplary application!)
In any case, Fingers regrets the error. The guy who stole the job out from under me used to be the chief marketing officer at Jimmy John's, and starts in a month. So expect to see neons offering "free smells" of watermelon White Claw at your local corner store shortly thereafter, I guess.
---
The United States of distressed alcohol purveyors
I was going through my drafts and found this video from early July of some bar-owners in Texas using a sledgehammer and a screwdriver (?) to open a keg of beer in the street while flying an upside-down American flag in distress (??) for a protest they claimed was similar to the Boston Tea Party (???) except this time it was over being temporarily forced to close by their own duly-elected leaders in an effort to stop the spread of the coronavirus pandemic.
Old news at this point but it's still kind of wild to remember that for almost six months the Trump administration has just been telling Americans to go fuck themselves in the face of an unprecedented global pandemic, and that instead of being enraged by that grotesquely racist and classist dereliction of duty, ordinary people across the country trained their fury on state governments for—in Texas' case, as in South Carolina's and many others—doing the absolute bare minimum to stop the spread of a deadly disease.
I guess being told you're going to have to stop selling 2-for-1 Shock Tops to hordes of sentient Nine Line t-shirts for a little while so hundreds of thousands more of your fellow citizens don't die just hits different when the social safety net designed to soften your fall in times of crisis has been gleefully ripped to shreds by a bunch of Koch heads and pleated-khaki-wearing Ayn Rand acolytes. Pickling your brain smooth with 30 years'-worth of Rush Limbaugh and Fox News and QAnon and everything in between probably doesn't help either.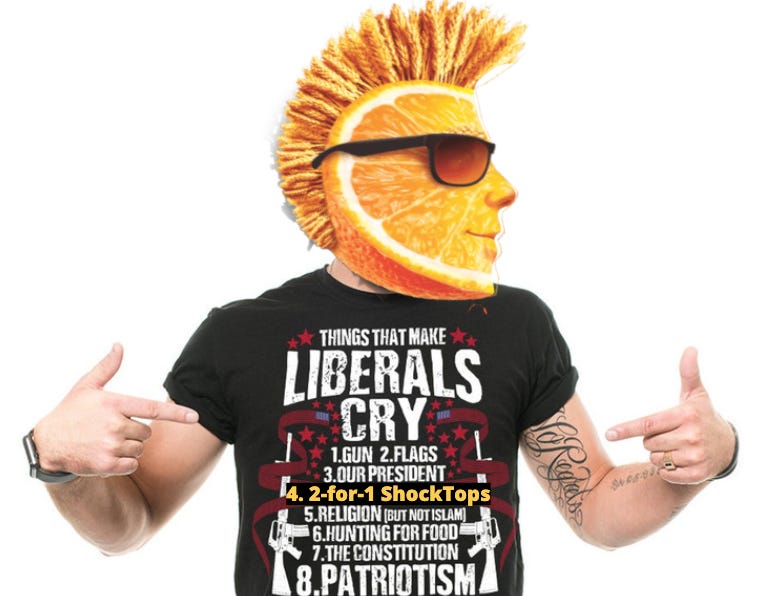 Fingers Design Department cannot and will not be stopped.

Source
(I don't know if these particular Texans in the video have been piping of lunatic right-wing fringe takes straight into their lobes for decades, but it seems entirely plausible given their "protest." I mean who does that to a keg?! As bar-owners, they presumably have a tap lying around somewhere, no?)
Anyway I'm happy that the national case-counts have slowed somewhat since the hot-and-heavy days of mid-summer, when this video hit the timeline. I'm sure by the time the weather gets colder and patio-drinking is no longer an option and the virus comes roaring back for a second wave, Congress will have put together a meaningful relief package that won't yet again hook up millionaires and billionaires while forcing independent publicans across the country into the impossible choice of flouting the law and medicine, or going broke and letting their businesses waste away to keep their communities, staffs, and selves safe.
I'm just sure of it. U-S-A! U-S-A! U-S-ohmygodineedadrink.
---
The bottom shelf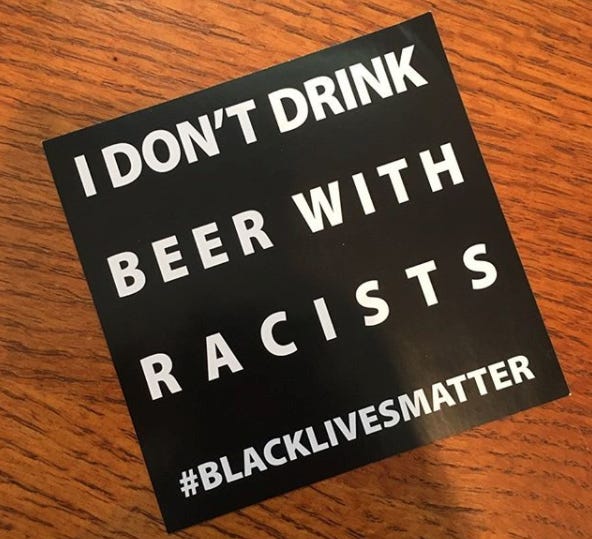 Big thanks to Friend of Fingers, the very-talented Daniel Fishel, for this newsletter's logo and banner art. Check out more of his work and commission him to draw things for you at 

o-fishel.com

.
If you have a friend you think would enjoy this piece, please forward it to them and encourage them to sign up for future editions:
All comments, questions, lavish praise, and vicious criticism on Fingers can be sent to 

dave@dinfontay.com

.