Discover more from Fingers
A newsletter about the business, culture, and chaos of drinking in America.
Over 4,000 subscribers
Birthday drinks
I turned 32 last week. Here's what I drank. (Plus: bar bathroom graffiti call!)
Welcome to Fingers, a newsletter by me, Dave Infante, about drinking culture, being online, and beyond. If you're getting this email it's because you've signed up for one newsletter or another of mine over the years. If you don't want this one, by all means hit the unsubscribe link at the bottom of this email, and please accept my apology for intruding in your inbox. Sorry to bother you!
If you were forwarded this email and want to subscribe to future Fingers dispatches, smash this here button:
More about this project 

right here

. Big thanks to my pal, the very-talented Daniel Fishel, for the hot new logo and graphics. Check out more of his work here, and commission him to draw things for you at 

o-fishel.com

. Alright, let's get to it.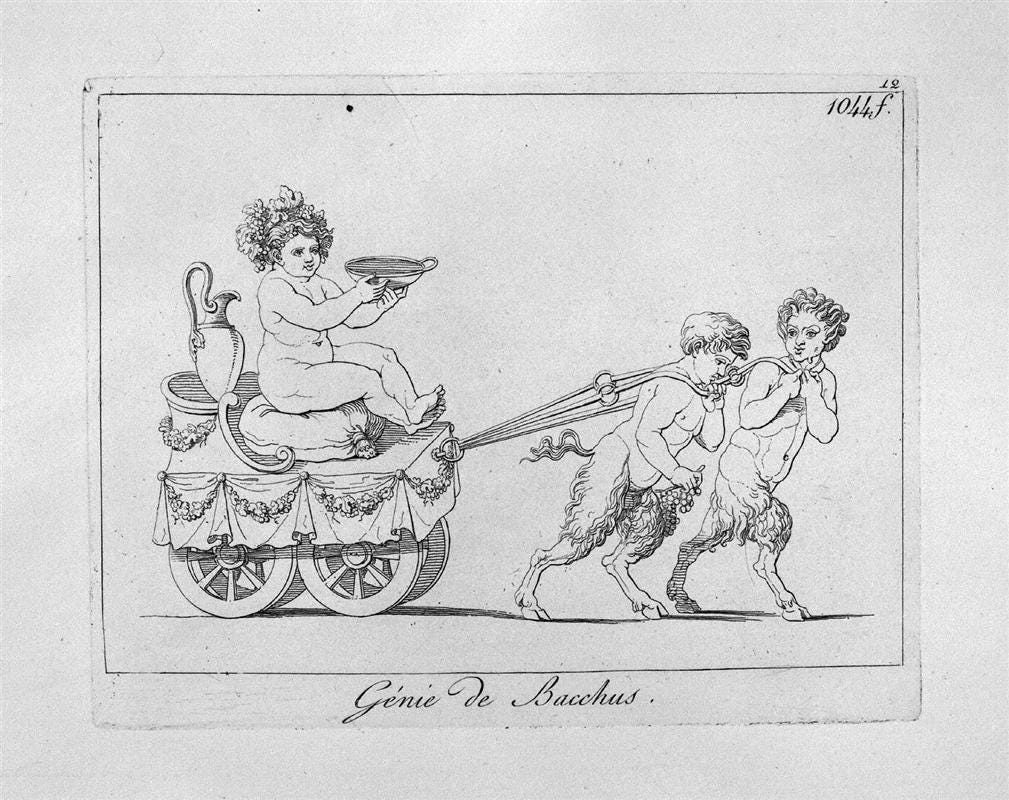 Live look at me celebrating my birthday last week. Thought the fauns were a nice touch.

Source
Who am I? Petey Pab motherf***er!!!
Just kidding. I am Dave Infante, and I write Fingers.
Last week was my birthday; I turned 32. It's OK that you didn't get me anything (or maybe you did?!) but now I'm going to ask you for something special.
Would you forward Fingers to your friends and encourage them to subscribe if they like it? That would make me feel pretty good about myself, which is of course the reason for most of the things I do in a given day. You can forward this very email, or send them links to these Fingers stories:
Or you can use this button:
For transparency's sake: if you're reading this, you're one of 707 subscribers, and I love you deeply for it. I think it'd be pretty swell to get to 1,000 subscribers by the end of the year. I'll need your help to get there.

Substack (the platform I use to send you these emails) calls people who pay for a newsletter "subscribers." Right now, I don't have payments turned on, which explains the goose egg you see above-right.
Will I turn on payments in the future? Maybe! Who knows?! For now, though, Fingers will remain freer than a strip club lunch buffet. I just want more people reading my stuff. So invite your friends to sign up. It'd be a great birthday gift.
---
Birthday drinks!
Here is what I drank all week to celebrate my annual shuffle on the mortal coil:
Sunday: I drank two cans of Coast Kolsch. Coast is a brewery in North Charleston that operates out of a US Navy instruments & documentation building erected in 1952. Here's a little thing I wrote about its cofounder Jaime Tenny back in April about how things were going in the coronavirus pandemic (lol.) Anyway I drank a pair of beers with my buddy Brandon and we burned stuff in the fire pit in his backyard. It was tight.

Monday: I drank nothing. If drinking were my religion (it is not), Monday would be my day of rest, and one I typically observe.

Tuesday: I drank between three and six servings (depending on your serving size, I guess) of Evan Williams bonded whiskey. I'm told whiskey has fewer calories than beer, and I like whiskey, so that's a win-win. We watched The Old Guard, which is apparently based on a graphic novel, which got me thinking about how worldly I felt as a freshman in college when my English professor assigned us Maus. It's a novel! But a comic book! About the Holocaust! I don't think I ever actually read it, but it seemed very sophisticated at the time. The Old Guard: 7/10, would get drunk and watch again.

Wednesday: I drank a Coast HopArt IPA, a Coast pilsner, and a tequila-soda. The tequila was Casamigos, which is 100% blue agave, which is part of the reason my head didn't feel like the inside of a butt the next morning. Perhaps you already knew this, but: as bad as not-good tequila is, good tequila is pretty rad, folks.

Thursday: Was my actual birthday. My fiancée made me drink a beer at 5 o'clock sharp: a HopArt. After that, I had like two hours of Zoom calls, during which I drank one pilsner. (All our beer lately is from Coast because I really like their beer and also their brewery is laid out really well for curbside pickups. South Carolina is like the coronavirus capital of the world, in case you hadn't heard.) We ate like two pounds of various pastas for dinner and I drank three glasses of a cheap-ish Gruner Veltliner. The wine hadn't been properly chilled so I put a big cocktail ice cube in it; sue me. After dinner switched over to whiskey. I was going to keep drinking the Evan Williams, but my fiancée insisted I be kind to myself, so I had Basil Hayden's instead. Not sure of the exact quantity but it was a bunch!

Friday: The hangover was severe but not unmanageable. By midday Friday I was feeling decent enough to go to the beach, so that's what we did. I had half a pilsner at the beach, and we watched this group of a dozen girls get written up for leaving empty wine bottles in plain sight by their towels. I think the ticket for this is like $1,000, so… woof. C'mon, ladies. For dinner, we went to one of my favorite restaurants, which has a solid outdoor set-up that we thought was pretty safe for both us and our server to eat at. I drank a margarita, a glass of Verdicchio, and a glass of chilled red I don't know the name of. We tipped like 35% and later felt bad we hadn't left even more. Later we went a friend's house and argued about the merits of bidets. I think I drank around six beers, plus a small glass of New Southern Revival sorghum whiskey, and a shot of amaro made from pineapple and Jamaican quassia bark. Both were pretty good.

Saturday: We went to the park and drank some beers (I didn't really keep track), plus a vodka-and-summer ale cocktail that I got out of this book.
The odds that my mom calls me in a mix of horror and concern after reading this email are basically 1:1. Don't worry Mom, at least I'm not one of these people!
---
Fingers wants bathroom graffiti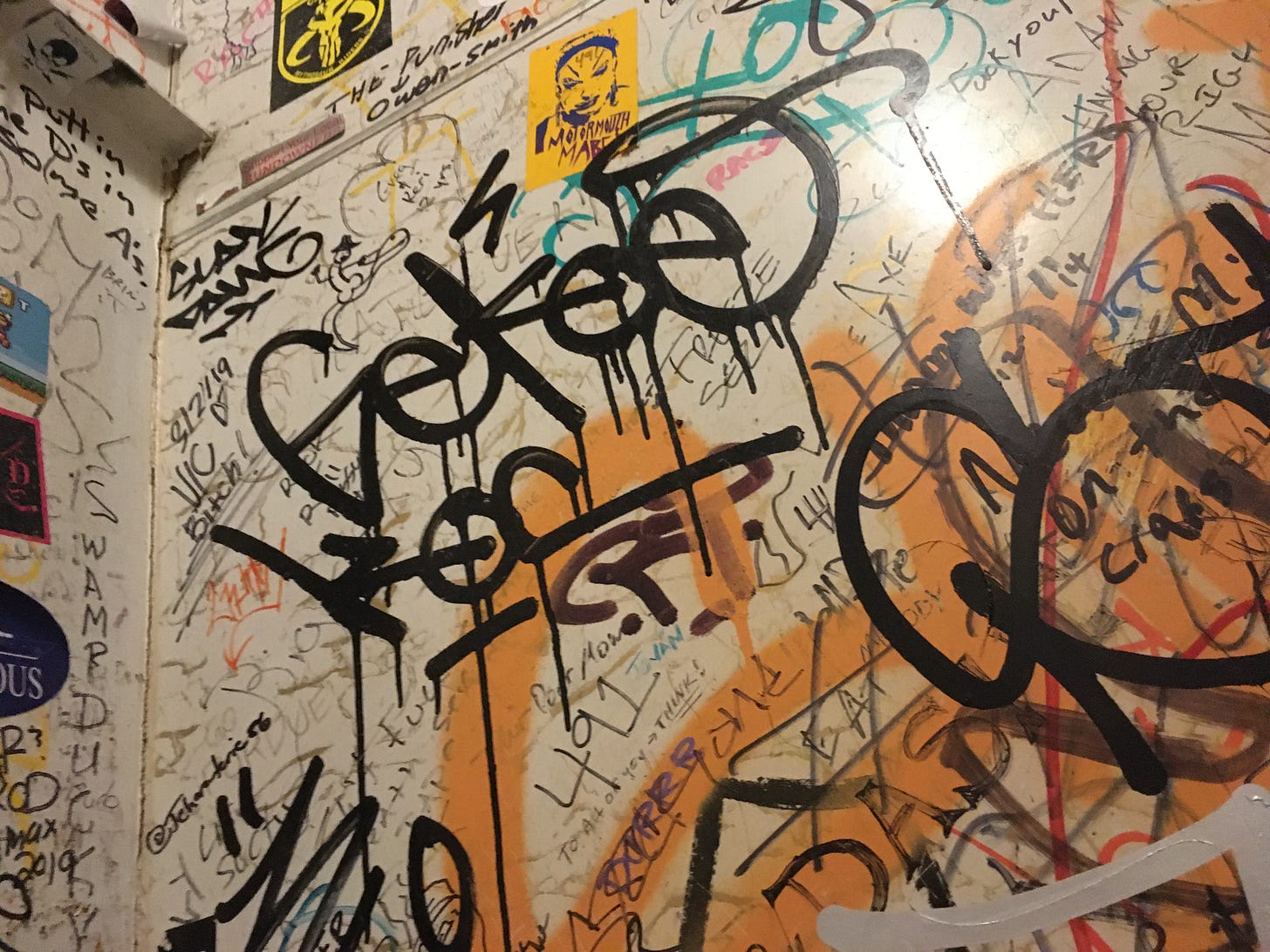 The bathroom at Tattooed Moose on Morrison Drive in Charleston.
The other day my Twitter acquaintance Ben Collins tweeted that he missed bar bathroom graffiti a lot. Me too. It got me to thinking: wouldn't it be cool compile a visual index of watering-hole wall scrawl from around the world?
I think so. If you do, too, and you have photos of bathroom graffiti from bars and restaurants you used to go to in the Before Times, please send them to me: dave@dinfontay.com.

Thanks for reading! If you have a friend you think would enjoy this piece, please forward it to them and encourage them to sign up for future editions:
All comments, questions, lavish praise, and vicious criticism on Fingers can be sent to 

dave@dinfontay.com

.