Discover more from Fingers
A newsletter about the business, culture, and chaos of drinking in America.
Over 4,000 subscribers
Get you an anti-racist beer sticker!
Support a good cause, get a good sticker. Bingo, bango.
Welcome to Fingers, a newsletter by me, Dave Infante, about drinking culture, being online, and beyond. More about this project 

right here

. If you were forwarded this email and want to subscribe to future Fingers dispatches, smash this here button:
Follow 
@its.fingers
 on Instagram! I'm posting readers' photos of glorious barroom graffiti with the hashtag #TheBarfitiProject. DM me your photos there, or email me: 
dave@dinfontay.com
.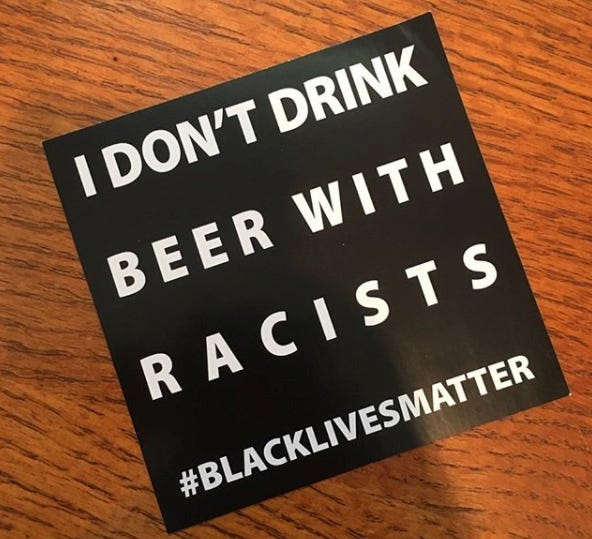 I'm mailing these stickers to Friends of Fingers who make a donation of $1 or more to either BeerKulture or the NAACP Legal Defense Fund. Pony up some bucks, send a screenshot of your receipt to dave@dinfontay.com, and I will mail you a sticker anywhere in the US.
I laid out the backstory in this earlier edition of Fingers:
There's an open-source, for-charity project out of Seattle called Sticker.beer that allows people to download a file that says "I don't drink beer with racists #blacklivesmatter" and get it printed up on stickers. Cool.

I learned about it via Chicago bar-owner Virginia Thomas, who decided to put some money up for a stack o' stickers herself:

The Sticker.beer website encourages donations to the NAACP Legal Defense or other social justice organizations. BeerKulture is a 501(c)3 dedicated to "[b]uilding trust and strengthening communities, using craft beer as a conduit to foster inclusion, equity and diversity," so I think that plays! (Disclosure: your Fingers editor has donated to it in the past, and recently bought some of these branded masks, too!)

Thomas is a proprietor of Beermiscuous, a two-location, worker-owned beer and coffee concern in Chicago. Business has been rough during the pandemic, particularly since the city ordered its bars to shut down again for indoor service.

I asked Thomas why she opted to take this on at such a precarious moment for her bars. Thomas:

Times are tough for me personally, and for my bar, certainly, but it's nothing compared to what Black people have been dealing with for hundreds of years. I saw a way I could use my privilege, my platform, and some of my money to help amplify BlackLivesMatter and fund BeerKulture at the same time, so I did it. I hope to continue what they started in Seattle with this, and keep a directory of places that have the sticker up/believe in the cause.

Thanks for reading! If you have a friend you think would enjoy this piece, please share it with them and encourage them to sign up for future editions:
All comments, questions, lavish praise, and vicious criticism on Fingers can be sent to 

dave@dinfontay.com

.