Discover more from Fingers
A newsletter about the business, culture, and chaos of drinking in America.
Over 4,000 subscribers
Hard seltzer Great Buy? Hard seltzer Great Buy.
Plus: Mommy needs her juice, A.C.L.T.M.S.W.D.A.R., and more
Welcome to Fingers, a newsletter by me, Dave Infante, about drinking culture, being online, and beyond. If you haven't already, please sign up for future dispatches, OK?
Follow
@dinfontay
on Twitter &
@its.fingers
on Instagram. Send tips, praise, and pictures of barroom graffiti to
dave@dinfontay.com
, thank you very much.

Hello and welcome to Fingers. 0 out of 10 belligerently drunk Chads agree that this is the best newsletter about drinking culture, being online, and beyond. Huzzah!
I hope you had a wonderful and safe Halloween and did not attend an illegal 300-person costume party in the middle of a new spike in this forever-pandemic:
Or perhaps you are a famous Friend of Fingers and received an invite to Kylie Jenner's ill-advised Halloween bash along with 100 other sexy celebrities, in which case I hope you didn't go to that either!
Unfortunately, Halloween did not "politely pack its bags and fuck off into the next year" as Samantha Grasso over at Discourse Blog implored it to, so now we're probably going to see a big ol' spike in cases in a couple weeks. Good thing there's nothing else coming up in the immediate future that may require a healthy and vocal population taking to the streets to stave off authoritarianism!
Your fearless Fingers editor would like to politely pack his bags and fuck off into next year too, but I'm all out of airline miles. Instead, let's get into some items from the past couple of weeks that I've been pondering, shall we?
---
#TheBarfitiProject
Big thanks to everyone who's sent in pictures of barroom graffiti since my call in last week's newsletter. Keep 'em coming! I'll be posting submissions on the Fingers' Instagram account, so make sure you're following along.
---
Hard seltzer Great Buy? Hard seltzer Great Buy.
Remember AriZona Iced Tea, that ubiquitous brand of deli-borne diabe-teas that came in the $0.99 tall boy cans labeled "Great Buy"? Of course you do. What you may not remember—or maybe you never knew in the first place—is that the guy behind that company, Don Vultaggio, is a colorful beverage-industry power player who built his empire in part by making malt-liquor delivery runs to tough neighborhoods in Brooklyn in the Eighties.
I wrote about Vultaggio a bit when I was reporting out this cultural history of malt liquor; here's an in-depth profile of him and his large adult sons from Chase Withorn for Forbes in 2017. Interesting dude. Anyway:
Knowing his history, it shocks me not at all that Vultaggio's flagship soft-drink brand has teamed up with Heineken on a new series of hard seltzers called AriZona SunRise. Nor am I surprised that this collaboration features the same obnoxious camel-cased capitalization that makes the underlying tea brand so annoying to type out.
Is it good? Who cares, not the point. Three decades ago, there was money to be made in malt liquor; now there's money to be made in hard seltzer, and Vultaggio—let alone the whole of Heineken—is no fool. As I wrote back in August when covering Topo Chico's Coke-abetted push into the hard-seltzer category:
[T]he groups have been focused, the whiteboards have been scrawled upon, and the go-to-market decks have already gone through the feedback rounds. You have done the work, and you know the truth: everything is hard seltzer now. To deliver #ROI, this is the obvious move.

You catch the fizzy wave, or you drown in the stagnant shallows. Topo Chico Hard Seltzer sponsor Fingers challenge, send tweet.
It holds up! AriZona SunRise sponsor Fingers challenge, send tweet.
---
Mommy needs her juice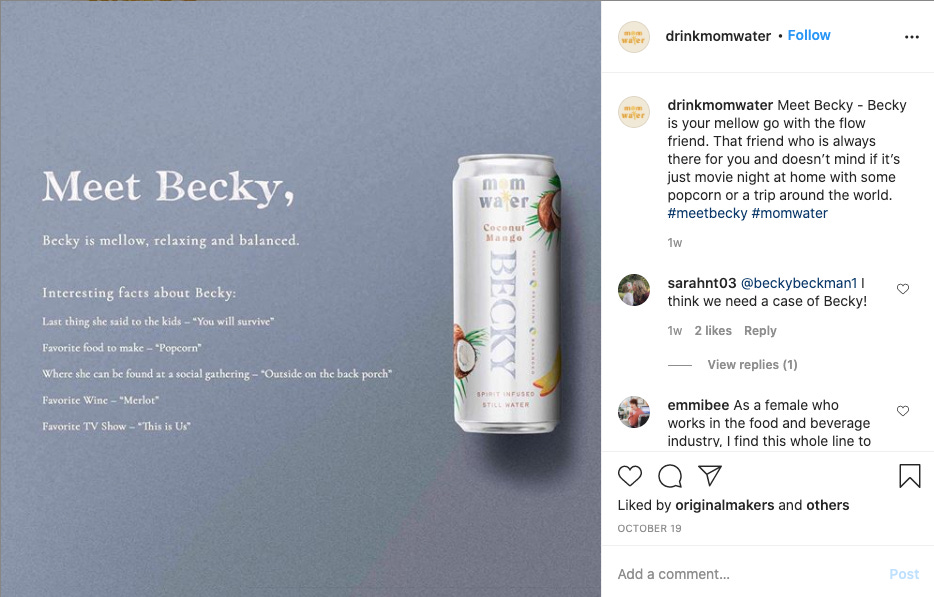 On the hard non-seltzer tip, there's a new "spirit-infused still water" out of Indiana making the rounds called Mom Water, a brand name that has sparked absolutely no online discussions amongst beverage-industry insiders about internalized misogyny, the normalization of alcohol abuse among married women, and white privilege. No discussion at all, I tell you. Moving on.
---
A.C.L.T.M.S.W.D.A.R.
Which of course stands for All Cops Like Their Martinis Served With Dignity And Respect, in honor of this crybaby tweet from the Boston Police Patrolmen's Association the other day.
Basically, Boston's beat-cop union got Mad Online, semi-doxxed a bartender after allegedly brutalizing her at a protest against police brutality, then tried to get her fired from a Boston restaurant. Turns out, she hadn't worked there since 2018, so then the BPPA apologized to the bar (but not the woman of course.)
Extremely good look for these brave public servants, way to go folks! This embarrassing incident offers three important reminders for the rest of us:
A.C.L.T.M.S.W.D.A.R.
Here's hoping that poor bartender is safe, and gets some recompense for being singled out by these cringe-posting chuds in blue. Anyone got her Venmo?
---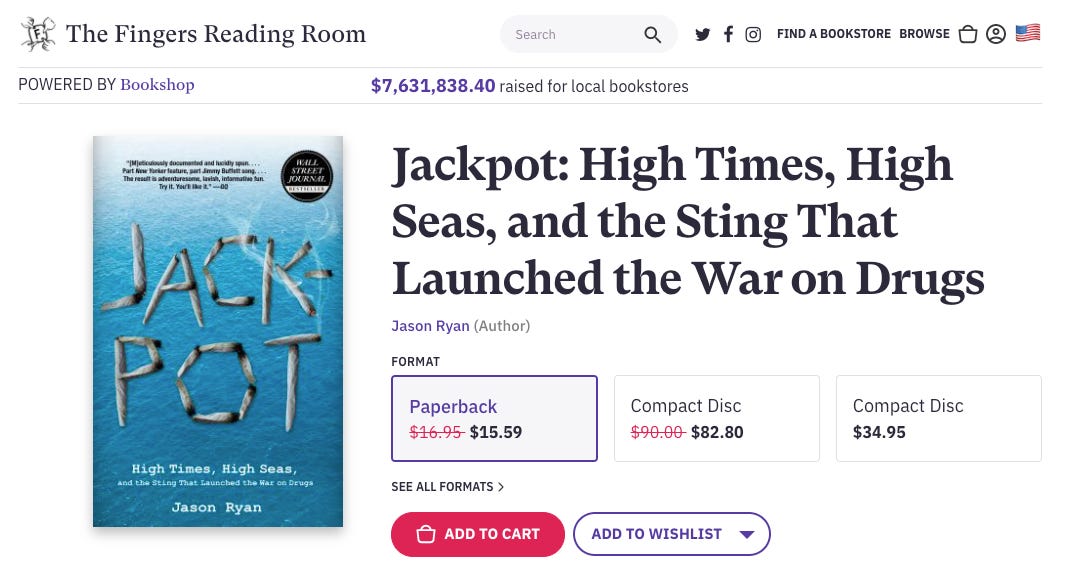 New to The Fingers Reading Room…
…is Jackpot, a fantastic piece of investigative nonfiction by Charleston's own Jason Ryan about a group of flashy, nonviolent "gentlemen smugglers" who ran pot and hash across the Caribbean and Atlantic and offloaded it on the South Carolina coastline in the late Seventies and early Eighties. I just finished it, and highly recommend. Check out my entire Bookshop storefront right here.

Big thanks to Friend of Fingers, the very-talented Daniel Fishel, for this newsletter's logo and banner art. Commission him to draw things for you at

o-fishel.com

.
If you have a friend you think would enjoy this piece, please forward it to them and encourage them to sign up for future editions:
All comments, questions, lavish praise, and vicious criticism on Fingers can be sent to

dave@dinfontay.com

.