Discover more from Fingers
A newsletter about the business, culture, and chaos of drinking in America.
Over 4,000 subscribers
"Honor and respect" and hard seltzer
You catch the fizzy wave, or you drown in the stagnant shallows. Plus: stickers!
Welcome to Fingers, a newsletter by me, Dave Infante, about drinking culture, being online, and beyond. More about this project 

right here

. If you were forwarded this email and want to subscribe to future Fingers dispatches, smash this here button:
Follow
@its.fingers
on Instagram! I'm posting readers' photos of glorious barroom graffiti with the hashtag #TheBarfitiProject. DM me your photos there, or email me:
dave@dinfontay.com
.

"Honor and respect" and hard seltzer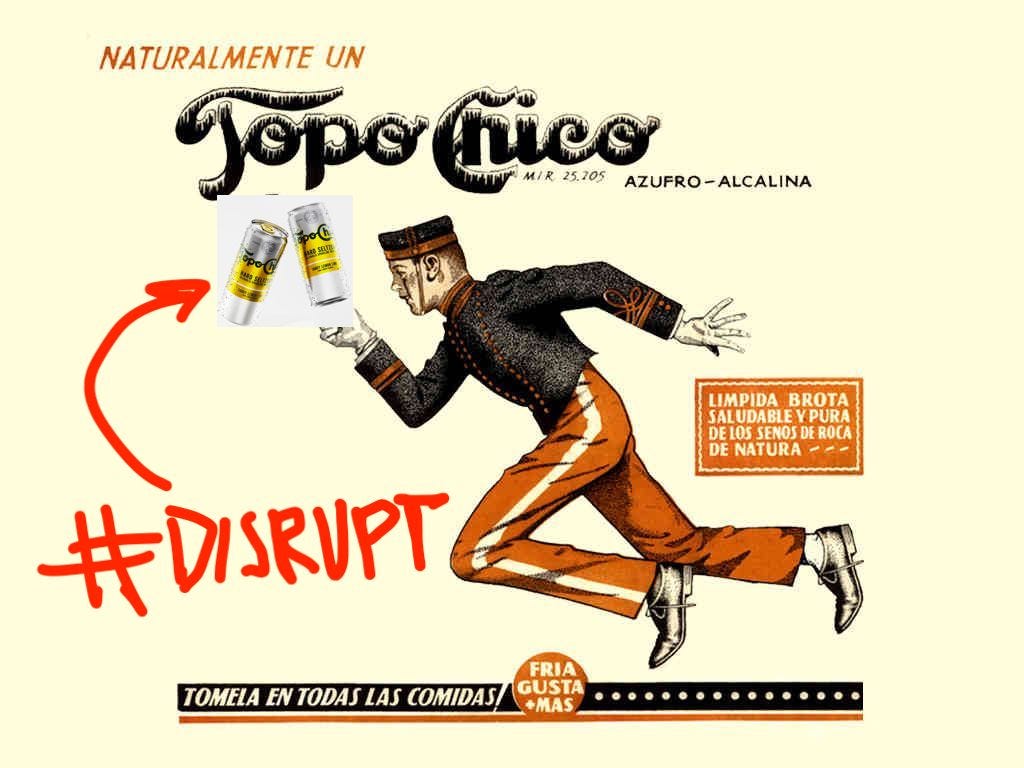 Hell hath no fury like a CPG company #innovating.

Source
In 2017, Coca-Cola bought Topo Chico, a beloved Mexican mineral water brand that has been around in one form or another since 1895. The price: $220 million.
The drink itself is refreshingly effervescent and has garnered something of a cult following in the past decade-ish with pseudo in-the-know American drinkers who first ran across it in an impossibly well-curated coffee shop/boutique in Austin, Texas. (Talking specifically and embarrassingly about myself here!)
The drink, as Vice explained in a 2018 piece about blowback from the sale:
emerged as the definitive beverage for a certain archetype of Texan scenedom—a sort of Pabst Blue Ribbon-like codifier that was handed out at house parties and Austin City Limits sets, and the preferred nonalcoholic beverage of the sort of Southern boys and Southern girls who have multiple thigh tattoos.
But Topo Chico, which comes in a clear glass bottle with a fairly iconic yellow label, has a heritage that far predates its popularity amongst the millennial seltzer set, dating back to turn-of-the-last-century holistic medicine in Mexico. Per the New York Times, in the late 1800s:
travelers from the United States flocked to Monterrey to drink and bathe in what newspapers of the era called "thermal springs" at the base of Cerro del Topo Chico ("little mole hill"). The water was said to have great medicinal value in the treatment of tuberculosis, liver disorders and rheumatism.
(I can only imagine what residents of 19th-century Monterrey thought about the influx of American medical tourists using their pristine volcanic aquifer as TB bidet. Guessing they might not have been thrilled about the arrangement!)
My point is that Topo Chico is not a LaCroix come-lately or a #wellness CBD broth created in some lab in the cursed bowels of a major consumer-packaged goods (CPG) firm. It had a real connection to a real place.
It's not like Topo Chico was still a little mom-and-pop brand by the time it got sold to Coke—its previous owner, Mexican beverage conglomerate Arca Continental, is Coke's third-largest licensed bottler worldwide, for chrissakes. Still there's something just a wee bit gross and colonial about this restorative, sparkling treasure of the mountains of northern Mexico being handed over to a world-eating American megacorp with a history of exploiting the health and resources of our neighbors south of the border. (And maybe worse.)
Perhaps sensing the bad… uh… "optics," at the time of the sale executives from both companies assured diehard fans of the beverage that nothing would change. From the Dallas Morning News' item on the 2017 acquisition noted (emphasis mine):
[B]oth Coca-Cola and Arca Continental officials emphasized that they plan to be careful to, as Hughes put it, "honor and respect" Topo Chico's century of heritage, rather than scale up immediately.
I always wonder if the executives who say things like that believe the words coming out of their mouths and then get overruled later on, or if they know the entire time that it's a just a gambit to protect the reputation of the brand they just bought/sold until all of us insatiable consumers with broken Twitter brains get distracted by the limitless parade of horrors for long enough that they can do some W I L D shit to something that we all used casually appreciate and identify with, which we'll all probably still buy because we are insatiable consumers and that's what we do.
Anyway.
I am not surprised by this because it's 2020 and nothing gold can stay, and least of all a delightfully bubbly mineral water with a rich history purchased for hundreds of millions of dollars by a publicly traded beverage conglomerate whose "Venturing & Emerging Brand" team's website boasts stuff like this:

If you are the type of person that likes to incorporate affinities for particular products into the personality you present to the world, and Topo Chico was one of those products, then you maybe took this news poorly and booked a tattoo-removal appointment:
If you're beverage industry analyst, you start crunching numbers and questioning Coke's move into a very crowded segment, which is an understandable impulse that hilariously forgets the fact that no one's models saw hard seltzer coming in the first place, so what are you hoping to accomplish, man?
(That thread is actually pretty interesting.)
But if you are a #futurist working at the Venturing & Emerging Brands team and are obsessed about #bespoke strategies for growing mutual #value creation for The Coca-Cola Company, you don't particularly care about what anyone else thinks.
Because: the groups have been focused, the whiteboards have been scrawled upon, and the go-to-market decks have already gone through the feedback rounds. You have done the work, and you know the truth: everything is hard seltzer now. To deliver #ROI, this is the obvious move.
You catch the fizzy wave, or you drown in the stagnant shallows. Topo Chico Hard Seltzer sponsor Fingers challenge, send tweet.
---
Do
you
drink beer with racists?
You'd better not. Assuming you're on the right side of history/good vs. evil/etc., Fingers wants to send you a sticker. Here's the deal.
There's an open-source, for-charity project out of Seattle called Sticker.beer that allows people to download a file that says "I don't drink beer with racists #blacklivesmatter" and get it printed up on stickers. Cool.
I learned about it via Chicago bar-owner Virginia Thomas, who decided to put some money up for a stack o' stickers herself:
The Sticker.beer website encourages donations to the NAACP Legal Defense or other social justice organizations. BeerKulture is a 501(c)3 dedicated to "[b]uilding trust and strengthening communities, using craft beer as a conduit to foster inclusion, equity and diversity," so I think that plays! (Disclosure: your Fingers editor has donated to it in the past, and recently bought some of these branded masks, too!)
Thomas is a proprietor of Beermiscuous, a two-location, worker-owned beer and coffee concern in Chicago. Business has been rough during the pandemic, particularly since the city ordered its bars to shut down again for indoor service.
I asked Thomas why she opted to take this on at such a precarious moment for her bars. Thomas:
Times are tough for me personally, and for my bar, certainly, but it's nothing compared to what Black people have been dealing with for hundreds of years. I saw a way I could use my privilege, my platform, and some of my money to help amplify BlackLivesMatter and fund BeerKulture at the same time, so I did it. I hope to continue what they started in Seattle with this, and keep a directory of places that have the sticker up/believe in the cause.
To support the cause, Fingers bought a bunch of Thomas' stickers. Want one? Make a donation of $1 or more to either BeerKulture or the NAACP Legal Defense Fund and send a screenshot of your receipt to dave@dinfontay.com with your mailing address. Boom, I'll mail you a sticker (anywhere in the US, at least.) I'll even throw in a worthless @dinfontay sticker and cover the postage, too. Wow!
P.S.: If you're in Chicago, please buy some beer from Beermiscuous. A lot of beer, actually.

Big thanks to Friend of Fingers, the very-talented Daniel Fishel, for this newsletter's logo and banner art. Check out more of his work

here

, and commission him to draw things for you at 

o-fishel.com

.
If you have a friend you think would enjoy this piece, please forward it to them and encourage them to sign up for future editions:
All comments, questions, lavish praise, and vicious criticism on Fingers can be sent to 

dave@dinfontay.com

.